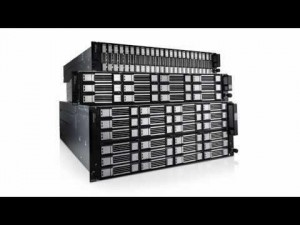 Dell recently released the latest series of PS-series array in the Equallogic family,this release with the series 14 and 17 controllers adds 10Gbit to the 6100 and 4100's. What's most important with these arrays, is the addition of both copper and fiberbased 10Gbit connections. The copper is standard RJ-45 whch requires Kat-7 cabling, but together with the 8024 from the classic Powerconnect range, you'll have a cheap killer-setup.
The fiber is standard SFP+ connections which can be utilized with either TwinAxial copper-cables with integrated SFP+ or with SFP LC modules for longer distances.This combination of both fiber and copper options, is for Equallogic "old school", this was last featured on Generation 1 and 2 arrays, and series 1 and 2 controllers all the way back in 2004/5
The biggest news story on the new additions is that for the first time the PS4000-series SMB range of arrays get 10Gbit interfaces, though you are still limited to a max of 2 arrays on the 4000-family. The normal 6000 series can have up to 16 arrays in the same SAN, or 2.1PB of data in total across 768 diskdrives, whereas the 4000 series can hav a total of 48 drives.
The limitation is still in the numbers of volumes/snapshots/replications you can have on the 4000 series, no change to this scheme
One other important feature to remember is "vertical port failover" which was re-introduced with the PS6100/4100 series. With reintroduction I mean this is also "old school", and it is a nice feature, with a tendancy to confuse the IT-admins, as they have to count the number of lights on the switch. It does not matter if the link is activ on controller 1 or 2.
With the new arrays it is important to populate the same port on both controllers, e.g. RJ-45 or SFP+. You actually have 4 ports in total on the backside, plus two 100Mbit management ports, but you will only have light in one of the four dataports. The vertical port failover will happen between the same type of port, and if accidently have choosen to use SFP+ on controller 1, and RJ-4 on controller 2, you will get downtime if a controller failover should happen.
The new series of arrays will provide you with up to 160Gbit throughput for a large SAN, and set you back a few bucks. But a Equallogic solution is still cheap, especially when you compare others against the PS6110XS with 7 pcs of large SSD drives and 17 pcs of 10.000rpm drives for a total of +20.000 Iops and 10TB useable storage capacity, all in a single box. And with the performance loadbalancing inside the array it's a killer.
About me: I've been working with (not for) Equallogic since the early days back in 2004/2005 and firmware revision 0.91. These arrays are my small babies, and when compared to all the other SAN products I havee encountered during the last 17 years, they are still no.1.